From Anne Boleyn to Princess Diana, a History of Royal Chokers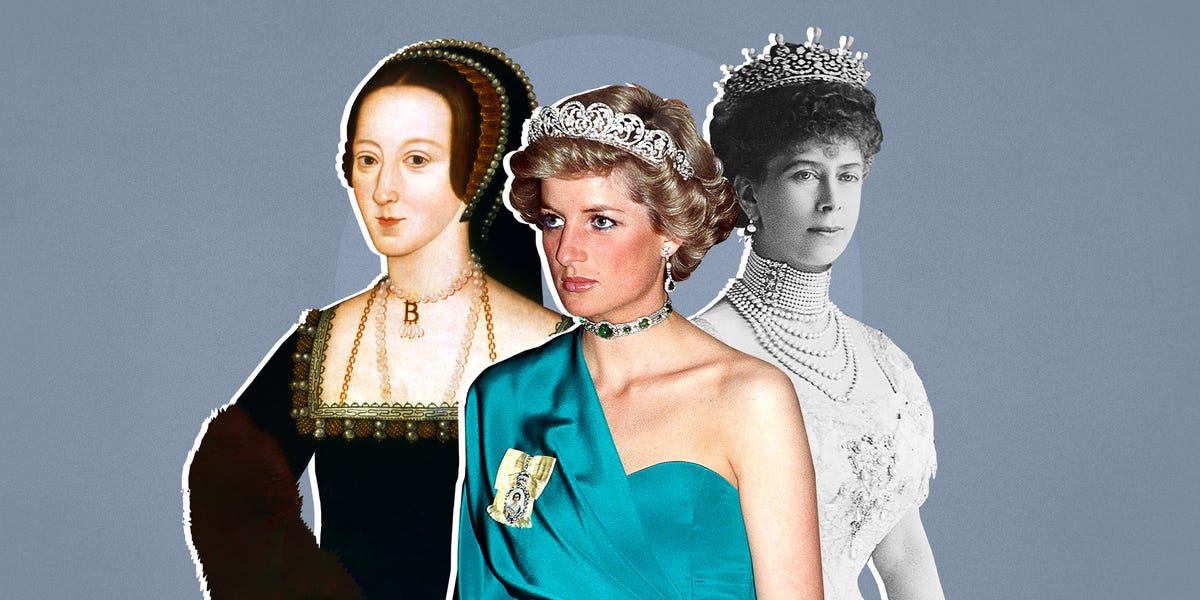 In the Pablo Larraín biopic Spencer, Princess Diana is haunted by the ghost of Anne Boleyn, the doomed second wife of Henry VIII who was executed in 1536 for what was officially treason but really so her husband could be rid of her and marry Jane Seymour. Whether it's accurate or fair to characterize Diana as a modern-era Anne Boleyn in terms of marital circumstances and tragic ends can be debated ad infinitum. But the two women may have shared common ground in a slightly less controversial way: with their taste for chokers.
To be fair, Boleyn's jewelry preferences remain shrouded in mystery. All portraits of the queen were destroyed after her demise and the only painting of her was created years later, in the late 16th century. The work, which hangs in the National Portrait Gallery in London and possibly was based on a contemporary image of its subject, shows Boleyn wearing a neck-hugging strand of pearls from which hangs a gold "B" pendant. Most accounts of this choker's provenance—and eventual fate—may be apocryphal but that hasn't tempered the myth of Anne Boleyn and her signature accessory.
The history of chokers goes back much farther than the Tudor era—the women of Ancient Egypt turned to them as protective talismans—but Boleyn's, a powerful statement on identity and independence, may have been the most famous and symbolic choker ever. Until Princess Diana came along.
Diana's ingenious 1994 revenge dress moment is legendary but so too was her choice of bijoux for that evening: a seven-strand pearl choker anchored by a giant sapphire and diamond brooch she had received as a gift from the Queen Mother. From the looks of it, Diana might have been taking cues from the Ancient Egyptians in using jewelry as armor. Consider the other notable appearances of this piece: that time she twirled around the White House dance floor with John Travolta, which given the context of her much-publicized marital issues, felt like a different sort of F You to Prince Charles. Or the night her own explosive tell-all TV interview aired. Or, strutting into the Met Ball, months after her divorce was finalized. But as valuable as this choker was, it was hardly the only one in her collection. Princess Diana had a veritable treasure chest of them, in emeralds, diamonds, pearls, rubies, amethysts, and sapphires. You might even call her the original choker influencer.
In between these two singular women there was also Queen Victoria, pioneer of the mourning jewel, who incorporated a black velvet choker into the rotation of her grieving gemstones, apparently paying no mind to the fact that such a style was also trendy among prostitutes (see: Edouard Manet's Olympia). And Queen Alexandra, who wrapped diamonds and pearls around her neck to conceal a scar, and Queen Mary, who, as we all know, preferred not to leave a single inch of her body unembellished. While in modern times Queen Elizabeth has generally eschewed chokers (save for her Japanese pearl necklace, which she has lent to the Duchess of Cambridge), other members of the family have embraced the style, though certainly not with the same fervor as Princess Di. Which raises the question: where have all of her fabulous chokers gone, and will we ever see them worn again?
Below, an incomplete timeline of notable royal chokers.
Advertisement – Continue Reading Below
Five centuries later, both Anne Boleyn and her "B" pendant pearl choker remain icons.
An 18th century portrait of a pearl choker-clad Queen Charlotte, grandmother of Queen Victoria and the great-great-great-great grandmother of Queen Elizabeth II.
After the death of her husband Prince Albert in 1861, Queen Victoria spent the rest of her life in mourning jewelry and, in turn, made them fashionable.
To hide a scar from a childhood surgery, Queen Alexandra, photographed in 1880 when she was still the Princess of Wales, resorted to glittery chokers. Legions of women followed suit.
The future Queen Alexandra, in another photograph from 1890.
An 11-row pearl and diamond choker was among the many wedding gifts Queen Mary received upon her marriage to King George V. She wore the piece often while she was still Princess of Wales and also chose it for this 1914 portrait. By the end of WWI, however, she had upgraded to big diamond chokers.
As queen, Mary was rarely, if ever, seen without her diamond-encrusted turtleneck, and especially her City of London choker, originally a wedding gift of two latticed diamond and pearl bracelets that could be combined into one necklace—which is how the queen wore it for the rest of her life.
Among the Cambridge emeralds, Delhi Durbar jewels, and Cullinan diamonds that adorn Queen Mary in this photo, at the top of her neck sits her Art Deco emerald and diamond choker, which she commissioned from Garrard in 1921. Queen Elizabeth inherited the gem in 1953 but never wore it, instead gifting it as a lifetime loan to Princess Diana, who made fantastic use of it throughout her life.
Princess Marina, Duchess of Kent, was fond of pearl chokers. Her daughter, Princess Alexandra, and daughters-in-law, the current Duchess of Kent and Princess Michael of Kent, have followed in her example.
Princess Alexandra, photographed by Slim Aarons in 1955.
Like mother, like daughter: Princess Marina and Princess Alexandra in 1960.
The Duchess of Kent pinned the black pearl brooch she inherited from mother-in-law Princess Marina as the centerpiece of a three-strand pearl choker.
For her wedding to the Duke of Kent in 1978, the future Princess Michael of Kent wore a multi-strand pearl choker.
Princess Anne in the early 1970s, wearing Queen Alexandra's velvet and diamond Edwardian choker.
And in another choker with history: the sapphire, diamond, and pearl choker that was among the suite of jewels Queen Mary had purchased from the estate of Russian Empress Marie Feodorovna.
Princess Diana's famous obsession with pearls—and pearl chokers—started early. Pictured here on the Royal Yacht during her honeymoon with Prince Charles in 1981, she wore a three-strand pearl choker featuring a flower-shaped, turquoise-studded clasp that was an 18th birthday gift from her parents. She later had the turquoise stones removed and replaced with more pearls.
And in Italy, in the all-pearl version of her 18th birthday choker.
And in another pearl choker style in 1984.
One of very few chokers Queen Elizabeth has ever worn in public is this Japanese pearl necklace, which was commissioned from Garrard from a gift of cultured pearls she received from the Japanese government after a state visit to the country in 1975. Before the gem made its debut on the monarch in 1983, she loaned it to Princess Diana for an event the year before. Since then, the queen has loaned the diamond and pearl choker to Kate Middleton, who recently wore it for the funeral of Prince Philip.
The Duchess of Kent in 1983.
Princess Anne has also amassed a considerable collection of pearl chokers, like this one she wore to a film premiere in 1985.
As a wedding gift, the Saudi royal family gifted Princess Diana a suite of sapphire and diamond jewels which included a very large Burmese sapphire pendant set on a thin diamond necklace and surrounded by baguette diamonds, matching earrings, a ring, a double-row diamond bracelet with a sapphire centerpiece, and a watch featuring seven sapphires. She later repurposed the watch and ring into a choker, pictured here in 1985, which she also occasionally wore as a headband.
Princess Diana at the America's Cup Ball at London's Grosvenor House Hotel in 1986.
For a night at the opera in Munich in 1987, Diana wore two pieces from her amethyst demi-parure, which included the cabochon amethyst and diamond earrings and necklace pictured here, plus a matching bracelet.
The Duchess of Gloucester, pictured en route to a state banquet in 1988, inherited her grandmother-in-law Queen Mary's 11-strand pearl and diamond choker.
Princess Diana also had her own 11-strand pearl choker made of 900 pearls held together by columns of diamonds and rubies.
The Duchess of Kent in 1988, wearing her three-strand pearl choker, this time with a white pearl pendant brooch.
Princess Michael of Kent in 1990, wearing a pearl choker bearing resemblance to the one owned by her sister-in-law, the Duchess of Kent, above, plus earrings featuring pearl pendants from the collection of the Grand Duchess Vladimir.
Princess Diana received Queen Mary's Art Deco emerald and diamond choker as a wedding gift and lifetime loan from Queen Elizabeth.
The legendary sapphire and pearl choker, as seen on Diana at a Budapest gala in 1990.
Princess Anne wore another one of her pearl chokers during an official visit to Qatar in 1991.
The look that launched a million headlines, 1994.
On her 36th birthday in the summer of 1997, which would be her last, Princess Diana attended a gala at London's Tate in the Queen Mary choker. After she died, the piece was returned to the royal vaults.
Princess Alexandra attended Margaret Thatcher's 80th birthday party in 2005 wearing her cabochon emerald multi-strand pearl choker.
In 2000, a pair of antique pink topaz earrings and brooch dating back to the 1800s sold at Sotheby's to an unknown buyer. Six years later, the jewels appeared on the Duchess of Cornwall (pictured here in 2019), who had the brooch incorporated into a five-strand pearl choker.
Also in 2019, Camilla, whose own pearl necklace collection may rival Diana's, attended Ascot in another one of her impressive chokers, this one made of aquamarine, diamonds, and gold—and reportedly an heirloom she inherited from her late mother Rosalind Shand.
The Duchess of Cambridge at the funeral of Prince Philip last year wearing Queen Elizabeth's Japanese pearl choker.
This content is created and maintained by a third party, and imported onto this page to help users provide their email addresses. You may be able to find more information about this and similar content at piano.io
Advertisement – Continue Reading Below