Jewellery business changes hands amid 70th anniversary celebrations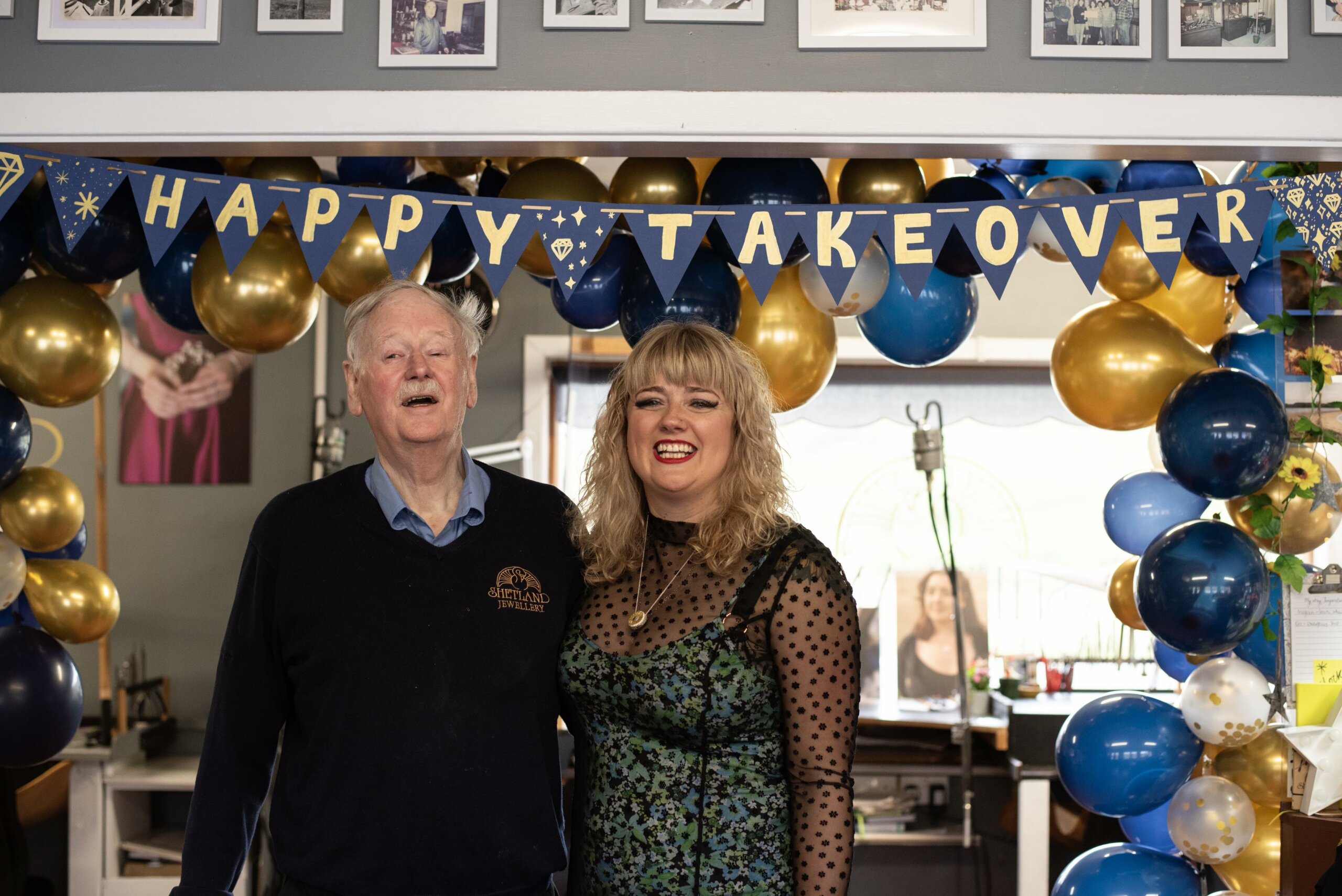 THERE is change at the top of local business Shetland Jewellery in what is its 70th year.
Sophie Whitehead, who has worked in the Weisdale workshop since 2003, has taken on the business from long-running owner Kenneth Rae.
It comes as the business celebrates its 70th anniversary this year – with Rae's father Jack starting things off back in 1953.
Whitehead said the process to change ownership has "taken a lot longer" than anticipated, with the Covid pandemic and plenty of paperwork causing delays.
Kenneth Rae working at the bench.
"I feel gratitude to Kenneth for giving me this opportunity, and for always challenging me to push myself to do better, both as a jeweller but also as a manager," she said.
"I feel excited at the prospect of taking Shetland Jewellery further and reassured that I have the best team I could have behind me.
"Due to all the delays we've faced, I also feel more ready as I was back in 2020. The additional time has given me more time and experience to learn about how the company runs, not just from a bench point of view, but all the other logistics behind it too."
The business began life as Shetland Silvercraft, founded by Jack Rae.
He trained as a jeweller in Edinburgh, later establishing his own business in St. Andrew Square. Rae was one of the first in Scotland to achieve the prestigious qualification of FGA – Fellow of the Gemmological Association.
The current Weisdale workshop was built in 1971, and a major extension was added in 2003.
Shetland Jewellery has been a part of design collaborations with Dorothy Hogg, Caroline Temple, Islay Spalding and Robert Welch over the years.
However, design work is now done in-house, with some of the staff having undergone training at the Birmingham school of jewellery. Many of the pieces created are inspired by Shetland, from mirrie dancers to seascapes and the St Ninian's treasure.
Whilst there is change at the workshop, which has a workforce of 11, Rae still owns the Lerwick shop J G Rae's.
The old silvercraft premises.
Whitehead said the aim going forward with the jewellery business is to "stay true to the Shetland brand", while putting her own stamp on things.
"We have an incredible team here," she added. "All of which are talented, creative individuals, so we will aim to channel some of those ideas into our products and ranges."
More recently the business has held popular make-your-own jewellery classes, while summers are busy with cruise ship passengers visiting off tour buses – often with hundreds of people coming through the doors in a day.
An open day was held on Saturday to mark the 70th anniversary, with a new commemorative piece being launched.
"We also have new items to launch at the craft fair, which are top secret just now, but in collaboration with a brilliant Shetland artist who shares our enthusiasm for creating and also all things Shetland," Whitehead said.
"I'd also say that we're also making more jewellery as we ever have in the past – we've barely met demands this summer, which is obviously a good complaint, but it just means we need to spend more time prepping for tourist season next year.
"Our original designs by Jack himself are also some of the most popular pieces, so I hope we can stay true to Shetland Jewellery and not stray too far from the roots."
Become a supporter of Shetland News
Shetland News is asking its many readers to consider start paying for their dose of the latest local news delivered straight to their PC, tablet or mobile phone.
Journalism comes at a price and because that price is not being paid in today's rapidly changing media world, most publishers – national and local – struggle financially despite very healthy audience figures.
Most online publishers have started charging for access to their websites, others have chosen a different route. Shetland News currently has  over 580 supporters  who are all making small voluntary financial contributions. All funds go towards covering our cost and improving the service further.
Your contribution will ensure Shetland News can: –
Bring you the headlines as they happen;
Stay editorially independent;
Give a voice to the community;
Grow site traffic further;
Research and publish more in-depth news, including more Shetland Lives features.
If you appreciate what we do and feel strongly about impartial local journalism, then please become a supporter of Shetland News by either making a single payment or monthly subscription.
Support us from as little as £3 per month – it only takes a minute to sign up. Thank you.
Already a supporter? Sign in to hide this message.