Wedding guest makeup: A royal-approved makeup artist's guide to an utterly flawless finish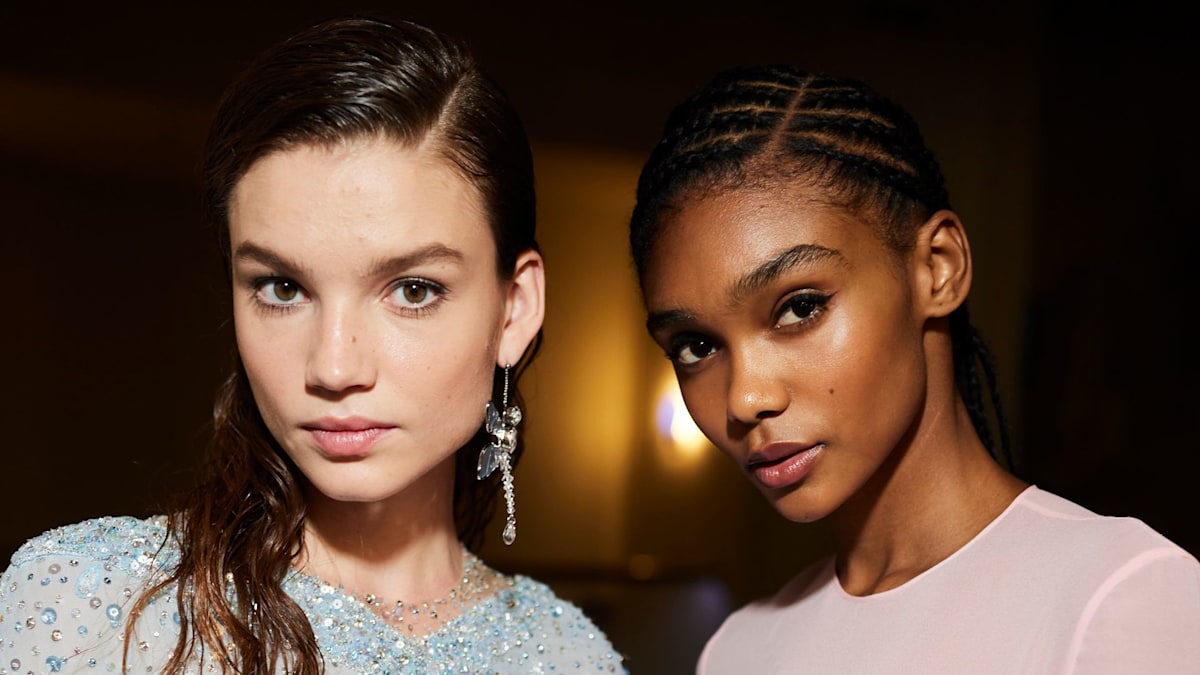 For better or worse, weddings are a key part of the social calendar. A joyful occasion to celebrate the union of a beloved couple? We're fumbling to RSVP as we speak.
Elaborate gift lists and strictly enforced hen do high jinks? Those we would gladly opt out of.
But the pre-wedding ritual that we are totally here for is the getting ready part. Once you've decided on your 'fit, you need to plan a makeup look that will last for the duration of a potentially emotionally taxing ceremony and a glam-but-lively reception. 
For many guests, the aim is to look like the freshest, most elegant version of yourself – no mean feat given how weddings by nature often involve hangovers and punishing early starts.
 READ: Cream vs. Powder Bronzer: Which is best for your skin type?
"Classic makeup is safe as it won't date and you'll look like you, no matter your outfit or the setting," says esteemed makeup artist Hannah Martin, who has worked on members of the royal household including the Princess of Wales and Princesses Beatrice and Eugenie. 
Extremely discreet where her more high-profile bridal clients are concerned, on the flip side, Hannah is exceedingly generous and forthcoming with her pro tips and tricks – part of the reason why, in conjunction with her signature charm, she has amassed such an engaged cult following.
As a rule of thumb, Hannah recommends employing the age-old 'eyes or lips' adage – opting for either a dramatic eye or a bold lip, not both – to avoid looking "overdone".
"However, if you feel your best self with both eyes and lips, then absolutely go for it," she adds. "I think the idea is that one area remains a focal point. Much like an outfit, too many patterns could look 'busy', but of course there's space for those that lean towards more maximalist makeup."
MORE: Summer beauty hacks that will revolutionise your routine
READ: How to use eyelash curlers properly: according to a lash expert
What makeup should I wear as a wedding guest?
Naturally, upstaging the bride is regarded in poor taste, but following her lead by taking your beauty cues from the vibe of a wedding is totally acceptable. No two big days are the same, and the quintessentially British country manor reception may call for a different makeup look to the free-spirited sunset beach ceremony.
When working with bridal clients, Hannah always takes the atmosphere into account. "Typically, boho country weddings call for soft, muted, often pastel, colours and subtle shimmer that complement long, flowing dresses and wild flowers, whereas city weddings can tend to be a little more 'structured' with hair and makeup often more 'done'. For instance, hard lines via liner or a wing can complement a more formal outfit." 
Irrespective of the vibe, the main aim is clear: all wedding guests want a look with excellent staying power that will deliver in pictures. With this in mind, Hannah preps the skin, then applies light layers of long-wear makeup, secured in place with both powder and setting spray.
Prep & Prime:
Primer works to create a silky-smooth canvas, providing foundation with a layer to grip onto. This will certainly help your makeup last, but Hannah is keen to flag that primer is not a substitute for quality skin prep. Interestingly, she often swerves primer unless a client is concerned with shine, in which case she will use an oil-controlling primer in the T-zone, usually Make Up For Ever's Shine Control Step 1 or Hourglass' Vanish Airbrush. 
Glow-getter:
A lit-from-within complexion requires a radiant base. Light, dewy makeup looks beautiful and fresh, but Hannah advises that if your makeup is too "wet" it may wear off after a few hours. One of her go-to glow-givers is Charlotte Tilbury's Hollywood Flawless Filter. "This isn't all greasy unlike some illuminators, and the glow coming through the foundation is much more subtle than if you were to mix it into your base," Hannah says. 
"If I still think the skin can take a bit more glow, then I love to dab Westman Atelier's Super Loaded Tinted Highlight in 'Peau De Rosé' or 'Peau De Pêche' over the high points of the face as a finishing touch. I always advise doing a little at a time as you can always add more, but if you apply too much, it can be hard to control the glow. Stick to a few key areas – the top of the cheeks and bridge of the nose – to ensure it looks like a purposeful glow." 
Always operate on the assumption that a wedding will involve flash photography and avoid using a foundation that contains sun protection. "SPF can be light reflective, meaning the flash bounces off it," Hannah explains. "It might look fantastic in natural lighting, but in pictures the foundation will look significantly lighter. You can, of course, use SPF under your makeup to protect the skin, that's no problem at all. Just avoid SPF in your foundation." 
To powder, or not to power? 
Hannah always sets makeup with loose powder – with a few exceptions – because she finds no other product as effective at keeping makeup in place.  
"I remember once doing someone's makeup in New York and Bobbi Brown (yes, the Bobbi Brown) asked who had done the makeup," she recalls. "I put my hand up and she said: 'Great job, but she didn't need the powder.' Bobbi dipped a sponge into some moisturiser, wiped off the excess and dabbed it over the makeup to 'revitalise' its finish. It's a trick I still use today if someone's makeup is looking a little flat." 
"That being said, I've only come across this a few times in my 20-year career, and it tends to be those with more mature skin or those who have recently experienced sun exposure and therefore their skin is super dehydrated." 
"I do use powder – mainly through the T-zone, under the eyes and especially above the eyebrows. These are areas we call 'hotspots' or anywhere where shine could translate as perspiration," Hannah explains.
For a lighter dusting, she advises using a brush, whereas if you want the powder to be more densely packed into the skin, the retro velour puff is your best friend.
"I tend to leave the cheekbones free from powder to ensure the skin glows," Hannah reveals. "Pressed powder is fantastic for on-the-go touch-ups, but I always advise a bride to use blotting paper first to lift off any oil before powder to prevent the makeup from appearing cakey." 
Infallible Eyes:
If there is even the slightest risk that you may shed a tear for the happy couple, elevate your eye makeup game in preparation. The two main mascara formula choices are waterproof (non-water-soluble) and tubing (water-resistant and smudge-proof). Hannah sways towards those of the waterproof variety, finding them better at "volumising", over tubing products which she finds subtler, and more lengthening. 
But she carries both in her kit, and rates tubing formulas by Trish McEvoy and Clé De Peau, whereas her favourite waterproofs are  Lancôme's Hypnôse and Bobbi Brown's No Smudge. 
Last-all-day Lips:
Not so long ago, finding a lip product that hit the spot, balancing staying power and comfort, was quite difficult – textures were often dry and unforgiving. The beauty landscape has come on leaps and bounds in recent years, and now there are heaps of excellent long-wearing liquid lipsticks at your disposal.
 Hannah loves those by Lisa Eldridge, Kylie Cosmetics and Huda Beauty and tends to apply them as a base layer. She then layers a creamier formula over the top, so that lips are plump and hydrated, but supported via a long-wear stain.
"While it's important to gently exfoliate then hydrate your lips with a balm, but you must blot off the balm before applying the lip colour as the balm will not only sheer out the colour, but will also prevent the colour from adhering to the lip effectively," Hannah advises.
Ready, set, go:
Pay close attention to what it is your setting spray is promising to deliver. Most lock your makeup in place, but Hannah points out that some are more like hydrating mists – great if your skin is lacking in moisture, or your makeup needs revitalising after a few hours, but you may choose to avoid these types if shine is a concern.
 "The best setting sprays that I keep in my kit are Urban Decay's All Nighter – you can swim in your makeup with this stuff on – and Charlotte Tilbury's Airbrush Flawless which gives off a slightly blurred effect," says Hannah.
Wedding guest makeup touch-up essentials: 
Lip balm – Hannah recommends removing old lipstick before reapplication, "and a bit of balm beforehand keeps lips soft (and kissable)".
Lipstick – Pack the shade that you used in your clutch so you can touch up after eating and drinking.
Concealer – Great for a quick base refresh or to brighten your under-eye area.
Blotting paper – This royal-approved retro beauty hack works to absorb any oil.
Powder – Concentrate your efforts in the T-zone, where the skin is most susceptible to shine.
Mints – Always a good idea.
Blush – "A pop of colour on the cheeks instantly revitalises tired makeup and blush may well come off after hugging and kissing family and friends," Hannah says.
Hannah Martin's wedding guest makeup dos and don'ts: 
Don't experiment on the day – stick to tried and tested products that you love.
Don't try a bold lip for the first time.
Don't use a neutral lipstick if you absolutely love and feel most 'you' in a bold lip.
Don't have any facial treatments immediately before the wedding if you haven't had them before. You don't know how your skin might react.
Do drink a lot of water in the weeks before the wedding – it's the best thing you can do for your skin.
Do avoid sugar if you're prone to breakouts.
For more of Hannah Martin's beauty insights, shop her best-seller book, MAKEUP.