Three things with Jenny Brockie: 'Despite looking slightly sinister it works a treat' | Australian lifestyle
When she was host of Insight, Jenny Brockie asked Australians often difficult questions about their families, beliefs and darkest days. She departed the program in 2020 after nearly two decades but is back on SBS screens this month – this time as the subject, not the interviewer.
Brockie is one of eight prominent Australians tracing their family history in the new season of Who Do You Think You Are? Her episode will see the longtime media figure attempting to solve the mystery of her father's ancestry. She says the irony of her profession is not lost on her – and that asking other people about their lives "was probably also a way of avoiding my own story".
Brockie lost contact with her father's side of the family after he died from a brain haemorrhage when she was just four years old. Later, as a young adult, she was given a diamond watch that her father had given her mother when they married – a deeply sentimental item that was later stolen in a burglary. Here, Brockie tells us about the devastation of that loss, as well as the stories behind other important personal belongings.
What I'd save from my house in a fire
In the chaos I'd probably run out with something random and useless like the umbrella by the door.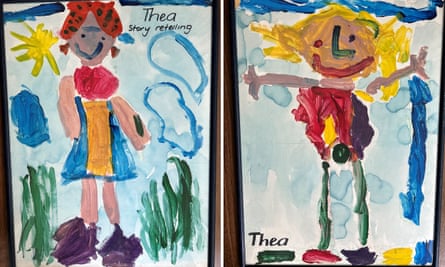 But if I did have time to think, I'd grab two wonderful paintings my daughter Thea did during her first week at primary school. One is of a character in a children's book called Mrs Wishy-Washy who washes farm animals only to have them run outside and roll in the mud again. She's supposed to be cross, but Thea clearly saw the bright side of the story.
The other one is of a very happy fisherman with glorious blond locks and a big blue fishing line. When my daughter brought the painting home she cheerfully pointed out that the big dark circle at the top of the fisherman's legs was his belly button. Both paintings are full of exuberance and joy. I figure that would be just what I'd need after a fire.
My most useful object
Four stainless steel utensils I've had since my early twenties: two big spoons and two flippers.
They seemed ridiculously expensive when I bought them from a fancy kitchen shop as a poor student, but from the day they came home, I knew they were keepers. They're weighty, perfectly designed, beautifully crafted and indestructible. You know that feeling when you buy something that's solid, does its job really well and lasts for ever? It's a good feeling.
The other thing I have that's really useful is a Dutch tea strainer. Despite looking slightly sinister it works a treat. It's a little tree of stainless steel wires you just shove it into the spout of any teapot and presto! No drips, no tea leaves. Genius.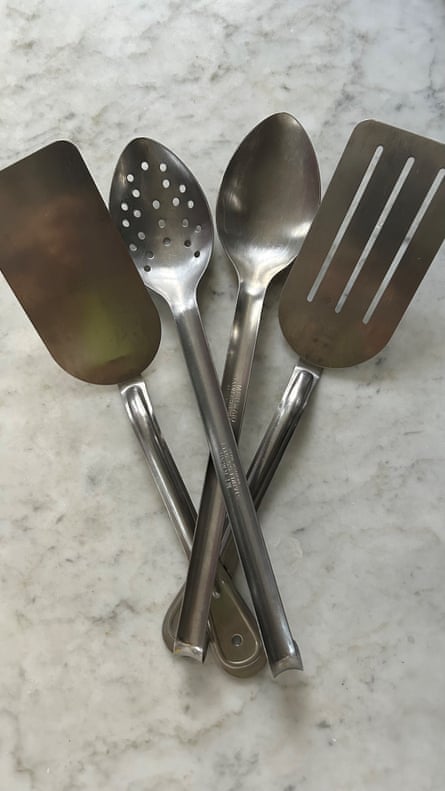 The item I most regret losing
In the early 80s, my mother gave me her small collection of much-loved jewellery. She never wore most of it and wanted me to enjoy it. It included a beautiful old diamond watch my father had given her when they were married. My family didn't have a lot of money so the watch was a big deal.
A few years later, my then partner and I moved house. I'd been planning to put the jewellery, which I kept in little pouches, somewhere safe but stupidly left it out during the move, on a day when lots of people were coming and going. About a week later we were burgled and all the jewellery was stolen.
I was heartbroken for years about losing that jewellery, especially the watch. I even remember traipsing around antique stores with drawings and descriptions hoping it would magically turn up and I'd be able to buy it back.
My mum was very understanding, saying "they're only things" and "it can happen to anyone", but somehow that made me feel worse. I wish I'd been able to tell whoever stole it – and probably pawned it for a pittance – how much impact that robbery had.
Who Do You Think You Are? airs Tuesday nights at 7.30pm on SBS and SBS On Demand