See Inside an Intimate, Michelin-Starred Restaurant Wedding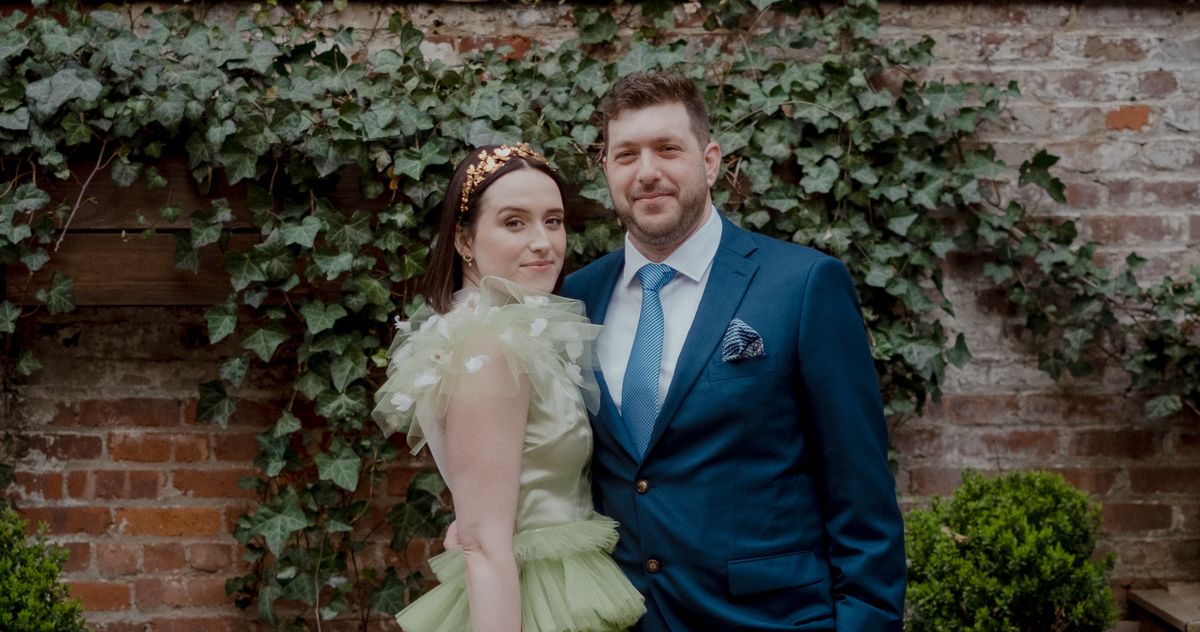 Photo: Chellise Michael Photography
When we ask newlyweds to think back on what they wanted most for their big day — and we've interviewed hundreds of them over the years — the most common response is "For it not to feel like a wedding!" Despite our new (pandemic) normal, that answer hasn't changed. If anything, gathering with old friends and eating mini grilled cheeses in formalwear to celebrate love feels more special these days than ever, even downright miraculous. And the betrothed have never been less attached to the old wedding handbook — and the need to please their great-aunt. So in a flurry of Pampas grass and perfectly mismatched-to-match bridesmaid dresses, how do you pull off a non-cookie-cutter affair? For the answers, we decided to interrogate the cool couples whose weddings we would actually want to steal, right down to the tiger-shaped cake toppers.
Here we spoke with Zack Bussin, an entrepreneur, and Annie Pidgeon, who works for a fintech company. After a series of stops and starts, the couple (who on their first date bonded over food) got serious during the pandemic and, in April 2022, married in front of 30 guests at the Michelin-starred Musket Room in New York City's Nolita neighborhood. Guests wept throughout the ceremony, then dined on hamachi and quail before buying shots at a nearby dive bar. 
Annie: We didn't have the most linear path. We first started dating six years ago, but we split up.
Zack: We met on Bumble in San Francisco. I moved to New York, then she moved to New York, and we reconnected. Then I had to move back to San Francisco.
​​Annie: We just kept coming back to each other throughout those years.
Zack: I never had that much ease with anyone, but I just wasn't ready when we were younger. We decided to date long distance. Then COVID hit, and we haven't left each other's side since.
Annie: We were living with different family members across the United States. In February 2021, he proposed in my mom's living room in Michigan with my mom and sister. It was a very intimate family moment.
Zack: I have three sisters, all married, and 15 cousins near my age. My mom is one of five. I've been to so many big weddings with bad food and drama, but Annie and her family really haven't, so I was like, "Whatever you want, Annie, I'm fine with."
Annie: We found a venue in San Francisco that could accommodate 120-plus people, but neither of us were really excited about typical big wedding planning. It didn't really feel like us. So we totally pivoted in the middle of it — to 30 people in New York.
Zack: COVID was a good excuse. It was kind of ramping back up.
Annie: Waves were happening, and people kept having to move their weddings or cancel them all together. It was hard for people to argue with "We don't know what it's going to be like come next year!" Overall, everybody was pretty understanding.
Zack: We knew we wanted it at a restaurant and to base it around food. My mother has always been into high-end dining — one of her best friends is the chef at a Michelin-star restaurant — and when I graduated college, I took her to Gary Danko. My parents are pickier, and Annie and I are more open. That brought us even closer; we're willing to try anything.
Annie: That was another reason we downsized — food is so important to us, and often when you have a large wedding, it's hard to maintain quality. The question became which restaurants could accommodate 30 people. We didn't want a massive space where 30 felt overly small, but finding a dining room for 30 is tough. It shortened the list to probably five places.
Zack: We instantly fell in love with the Musket Room. Their service and the people there were amazing.
Annie: The first time we went to scope out, we had such a good time there that we were like, Oh, this is it. Sometimes with a nice restaurant, you're a little uncomfortable with the formality, but it just felt like a welcoming place. Warm but still refined. And their prix fixe packages worked well. We were able to customize one with the foods we really enjoyed.
Zack: We didn't have to bring in anything other than flowers.
Annie: I don't look great in white, and I don't feel good in white, so wedding dresses were a source of anxiety. My mom came into town to go dress shopping, and I got appointments at the typical bridal salons, but we were near Bergdorf and decided to pop in. Andrew Kwon was actually there, debuting his second collection for brides, and he had this green one. It was such a good color, fun and glamorous at the same time. It didn't feel overly stiff, and it was actually comfortable, which is good when eating is a core part of your wedding. Of course, my mom spoiled it the same day. Zack joined us for dinner afterward, and my mom just proclaimed, "The dress is green!"
Zack: Annie's mother is an artist, so she knew what would go well with that green. I let her guide me because I am casual as they come. I wore a blue tie and a suit from the Black Tux.
Annie: She had this wheel to look at complementary colors. For some reason, I really wanted yellow flowers when we first started; I think I saw something on Pinterest or Instagram. My mom was like, "It's the wrong color; it's the wrong color." She helped me come to my senses, that the purples complemented the green in a really lovely way. Working with Molly Burke of Fleetwood Floral, I knew I wanted something organic and simple. My bouquet had that perfectly imperfect feel, and she came up with a deconstructed altar of blossoms. It ended up being perfect because we were going to get married in the backyard, but the weather was cold and wet, so we got married right in the entryway of the restaurant.
Zack: I was up at 6:15 a.m. the day of and went to Tompkins Square Bagels. I dropped a dozen off at Annie's room and brought a dozen to mine.
​​Annie: We (and most of our family) stayed at the Bowery Hotel, and they were kind enough to upgrade us, so we each got our own penthouse suites to get ready in with friends and family.
Zack: The setting for the first look was pretty amazing. We were on this massive deck off her suite with the skyline behind us, and it was overcast. She walked toward me and I saw the tiara — I broke down crying.
Annie: It was a headpiece from the Bergdorf salon by Jennifer Behr. It's an arc of butterflies, and it was fun because the shoulders of the dress have little flowers that almost look like butterflies.
Zack: It felt surreal, looking at her. It was like the world had stopped, but there were fast-moving clouds in the background.
Annie: Our photographer, Chellise, was able to get these great shots in the streets walking over to the restaurant because it was only 0.2 miles away.
Zack: Everyone reacted because we were walking at a busy time and because Annie's dress was unbelievable. Everyone commented on it.
Annie: The ceremony was officiated by Aviv, a longtime family friend of Zack's. When we were living in San Francisco during the pandemic, he would come over for dinner all the time.
Zack: He was at our apartment every other day, eating with us, playing with our dog. It was a perfect fit.
Annie: He spoke so nicely about both of us and tied in some beautiful prayers and blessings. Neither Zack nor I are that religious — I grew up Catholic; he's Jewish — but Aviv said a prayer that his grandfather would use in Hebrew and then translated it to English; it was an homage to family more than anything else. He cried; we cried. Everybody was crying through most of the ceremony.
Zack: At cocktail hour, the hors d'oeuvres were za'atar-fried quail, shrimp toast on milk bread, and smoked trout roe with crème fraîche. I'm not a drinker, but there was one signature cocktail called the Hooch's Hooch, which is our dog's name, and was tequila based.
Annie: The cocktail hour was one of my favorite parts because we were riding the high of having just made that commitment and we got to talk to all of our friends for the first time that day in some cases. It was great to see everybody so happy and for me to feel so happy.
Zack: My best friend since I was 5 years old, Yoni, gave a speech before we entered dinner. We've spent all of our lives within a mile of each other somehow. He put into words just how well Annie and I fit together, and it was really nice to hear him say it.
Annie: During dinner, my mom, his mom, and my sister spoke. Having three daughters, Zack's dad had given speeches at all their weddings, so this was his mom's time. My mom's was a little more weepy, although the good news was everybody cried so much during the ceremony that it was out of people's systems by that point.
Zack: Dinner was plated with five courses. The first was hamachi, which is one of our favorites. We got sweetbreads for the second course; we knew a majority of the people would have never eaten them before. We love all that kind of stuff. We're pâté people. The main course was this really decadent salmon. When we did the tasting we were like, There's no way we're going to want this. But they fly it in from New Zealand, and I vividly remember the super-buttery sauce on top. Then a pavlova dessert and cake.
Annie: It was an orange olive-oil cake with orange marmalade and mascarpone buttercream. Funny enough, we cut the cake there, but we didn't actually eat it because we were running out of time in the restaurant!
Zack: We were supposed to figure out the after-party, but then we just decided to wing it. It was some bar — Whiskey something? It was right around the corner from the hotel, and we headed back along the cobblestone streets.
Annie: Whiskey Town, which is a very fun, young bar. So we were all rolling in in our suits and dresses, and it was a stark difference to the Musket Room.
Zack: There were a lot of random people buying us shots.
Annie: We had a dim sum send-off the next morning for everybody at Dim Sum Palace. I used to live in the East Village and would go there a lot with my friends; it's the perfect day-after meal.
Zack: We ordered a duck for the table, which was probably a little too much. But we just went crazy, ordered a bunch of dumplings. My nieces were there, and they're not shy, and they were sitting with people our age, learning how to eat soup dumplings. It was just the cutest — one of the best memories I've ever had.
Annie: And we cut up the cake on the lazy Susan, and all ate it there. For people from out of town, they got the New York experience, I would say.
Annie and Zack got ready in separate suites at the Bowery Hotel.
Photo: Chellise Michael Photography
The bride wore a celadon dress by Andrew Kwon. "It was such a good color, fun and glamorous at the same time," she says.
Photo: Chellise Michael Photography
Zack was overcome during the first look, seeing Annie against the overcast city sky.
Photo: Chellise Michael Photography
"It felt surreal, looking at her," he says. "Like the world had stopped."
Photo: Chellise Michael Photography
The couple got lots of love as they took photos around the East Village, including from this couple passing by on a motorcycle.
Photo: Chellise Michael Photography
They met on Bumble. "I never had that much ease with anyone," Zack recalls.
Photo: Chellise Michael Photography
Annie worked with Fleetwood Floral for an "organic, simple" bouquet of purple blooms.
Photo: Chellise Michael Photography
For their celebration at the Musket Room, flowers were the only added décor.
Photo: Chellise Michael Photography
Their original plan had been to marry in the restaurant's backyard, but the cold, wet April weather had other ideas, so the ceremony was held in the doorway.
Photo: Chellise Michael Photography
The ceremony was officiated by a longtime family friend of Zack's.
Photo: Chellise Michael Photography
Their 30 guests were emotional throughout most of the ceremony, Annie says.
Photo: Chellise Michael Photography
The cocktail hour was one of Annie's favorite parts as she got to say hello to some guests for the first time.
Photo: Chellise Michael Photography
After the ceremony and cocktail hour, guests retreated to the back room for dinner.
Photo: Chellise Michael Photography
They dined on hamachi, sweetbreads, and New Zealand salmon.
Photo: Chellise Michael Photography
Both of their mothers and Annie's sister spoke during dinner.
Photo: Chellise Michael Photography
"The good news was everybody cried so much during the ceremony that it was out of people's systems by that point," Annie recalls.
Photo: Chellise Michael Photography
Without an after-party plan, the couple and some of the younger guests ambled over to a nearby dive bar afterward.
Photo: Chellise Michael Photography
The couple cut their orange olive-oil cake but didn't have time to eat it, so it was served at their dim sum send-off lunch the next day.
Photo: Chellise Michael Photography