Essay: I Do's and I Don'ts From a Semiprofessional Wedding Guest | Essay | Seven Days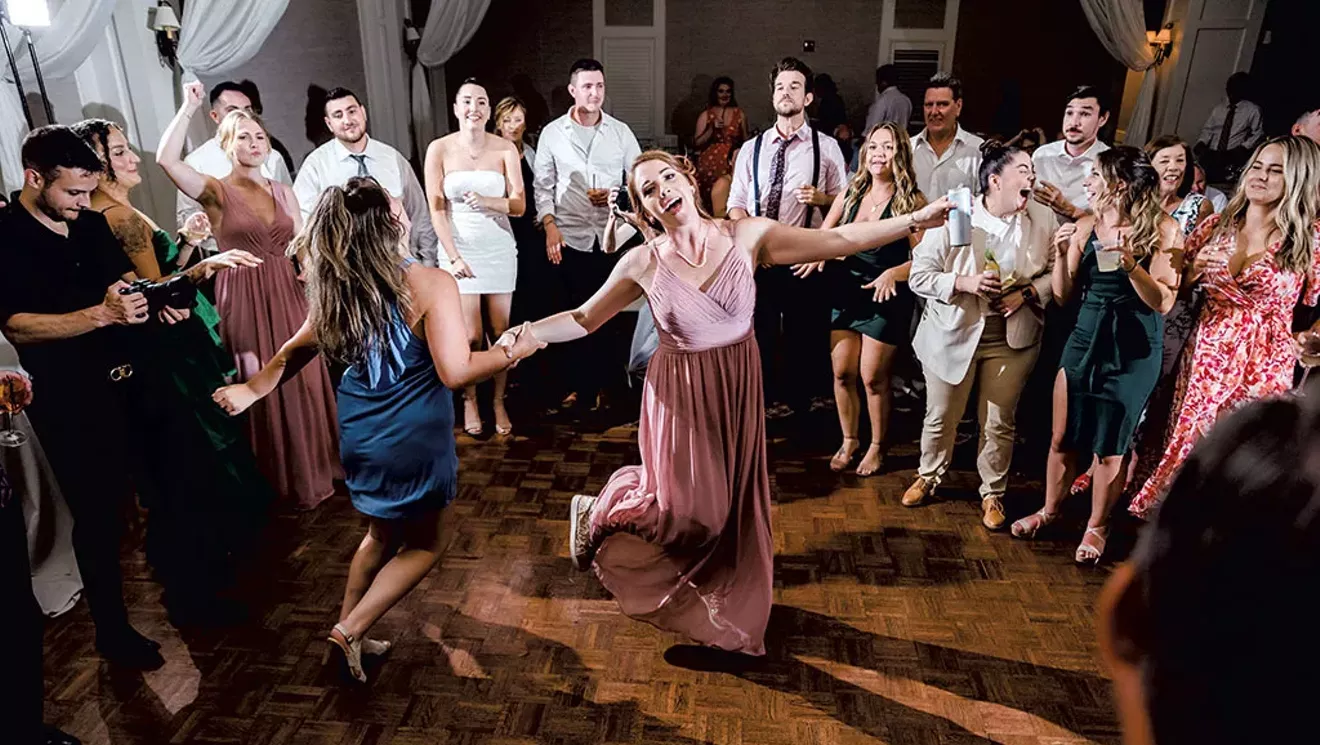 Listen to this story read aloud:
After I got engaged, my Instagram feed was suddenly filled with images of florals and lace, sparkling diamond bands, and teary brides touching up their makeup in the mirror. The brides looked flawless, but they all blended together. I wanted to be different but still feel like me. I wanted the romantic vows with a killer party without spending a cent. How on Earth does one accomplish all that?
In a fit of anxiety, I immediately started googling wedding planning tips. Checklists soon filled my screen from the Knot, Zola, Brides … you name it. It was overwhelming. I wondered where the hell I should start.
Then I remembered that I am an event planner, and I don't need a random person telling me which vacuum is best and when to add it to my registry. Besides, I secretly had created a wedding planning spreadsheet for myself long before I got engaged. Detailed spreadsheets are any event planner's drug of choice — the more tabs, the better. Now, I was overjoyed I could finally tell my fiancé the spreadsheet existed!
But I still struggled to begin planning because, admittedly, I am really sick of weddings. By the end of 2023, I will have attended 24 of the 27 weddings I've been invited to since 2019. Plus my own! At this point, I could do the brides' hair and makeup, write anyone's personalized vows, and recite the Mad Libs-style speech your family's favorite priest will give.
I can't remember a single piece of cake I've had, but I can remember whose dog was the cutest at the ceremony. (I'm looking at you, Annabelle.) I don't remember what fun facts you had on your personalized napkins in the bathrooms, but I do recall yelping, "Holy shit! How much did these cost?" before crumpling them up.
Speaking of costs, I love all the happy couples dearly, but my wallet doesn't. The travel, hotels, showers, gifts and bachelorette parties really have added up. Looking at my measly savings account makes me wilt like a corsage on a hot summer day. My fiancé and I did the math, and we've spent around $10,000 dollars on other people's weddings in the past few years.
How do I afford my own dream day when I have spent years of savings on everyone else's? It's tough to be excited about my wedding when those pretty decorations in my Etsy shopping cart will either put me in debt or make me feel guilty about the carbon footprints following me down the aisle.
But empty wallets aside, weddings can be really fun and meaningful. Father-daughter dances will always make me cry, even if I'm worried about stepping on my dad's toes during mine. With a busy wedding season on the horizon — especially given all the couples who've waited through a pandemic to get hitched — it's likely you have one or two weddings to attend yourself. The key to getting the most out of them as a guest is knowing how to navigate the sweaty dance floor, survive the open bar, and endure the cringey speeches and everything else that makes a wedding both heartwarming and harrowing. So, as a semiprofessional wedding attendee and soon-to-be bride, I offer my list of I Do's and I Don'ts to get you through your next nuptials — or 10.
I Do's
Do befriend those at your table and make a game out of timing the speeches. Stakes can be raised by each person throwing a dollar into the pot. Everyone guesses how long each speech will take. The person who guesses the closest time without going over takes all. Hint: The dad's speech will either be the shortest or the longest. Choose wisely!
If you win, be sure to shower the bride in dolla dolla bills y'all during the one song that comes on when she forgets Grandma is watching and starts dancing a little too dirty with her new hubby.
Do use props on the dance floor whenever available. These could be desserts, napkins, flowers, etc. Pro tip: The groom's tie can be used for limbo, and rolled-up wedding programs make excellent microphones to yell into when "Mr. Brightside" comes on.
Do start limbo at every single wedding you go to. It's silly and fun! A true wedding guest professional should literally bend over backward to please the happy couple.
Do hit me up if you need a dress to wear to a wedding. Seriously, please take them from me. My closet cannot hold any more.
And do re-wear your own! You don't need a new dress for each wedding. The only guest likely to remember you've worn that outfit before is you.
Do ask the event coordinator for scissors when your dress has three layers and you're too hot dancing — you can cut off and throw away the inner two layers.
Do channel your inner MacGyver when something goes wrong. A bobby pin can fix a crooked corsage or a broken shoulder strap on a dress. A safety pin can be a good toothpick. And Lord, forgive me, but if you can't find a pin, a piece of your own hair can sub for floss if that spinach in your teeth really won't come out.
Do use the hand dryer in the bathroom when you spill on your satin dress and family photos are coming up.
Do indulge like it's your last meal, especially during an open bar. Your hungover self will thank you tomorrow. Forget the calories! Give your body what it needs, whether that's an extra glass of water or your fourth slice of Domino's at 2 a.m.
Pro tip: Pack electrolyte powder in your purse and drink it throughout the reception.
Do get creative, especially if you're giving a speech. Do the couple love Disney? Sing a song to them! See if the audience really can feel the love tonight! Does your brother dance like an inflatable tube man at a car dealership? Act it out!
Do twist and shout, cha-cha slide, electric slide and Macarena your way around the dance floor. Who cares if the DJ isn't playing your genre of choice? Your dance moves deserve the spotlight.
Do grab the hand of the shy person tapping their toes on the outside of the dance circle and twirl 'em around. They might just break into the sweetest smile you've ever seen.
Do put your phone away to respect the photographer. Trust that they'll do their job and get the winning shot, and you don't need to lean into the aisle to get the first-kiss photo. There's nothing worse than watching an intimate moment through someone else's phone in your face.
Do sign the guest book early before your intoxicated handwriting turns into an italicized mess.
I Don'ts
Don't add up the money you spend at weddings. Trust me. It will give "for richer or for poorer" in the vows a whole new meaning — emphasis on poorer.
Don't bother wearing shapewear, especially on a hot day, because you will get too hot in the un-air-conditioned church and throw it away in the church's bathroom. (Sorry, Jesus. But if you had answered my prayers for a cool breeze, we wouldn't have had this problem.)
Don't be ashamed to go barefoot on the dance floor. Dirty feet are better than blistered feet!
Don't try wearing magnetic fake eyelashes on a hot summer day. They will rotate 90 degrees on your face without you noticing, and when someone finally tells you, you'll end up ripping them off and throwing them into the air like confetti.
Don't get overly excited for limbo and cut the line, especially when children are involved and the photographer is looking. (See photo.)
Don't sing karaoke in a hotel elevator after being asked to stop singing karaoke in the lobby, because the manager will throw you out at 1 a.m.
Related: Don't yawn and pretend to be asleep even though you're fully dressed with a drink in hand when said manager arrives at the door to throw you out.
Don't spend a ton of money on the wedding card. Buy a multipack of vaguely congratulatory cards, and you can use them for every birthday, engagement, wedding, retirement, divorce and breakup for the next 10 years of your life.