Bridal make-up | Wedding make-up tips and tricks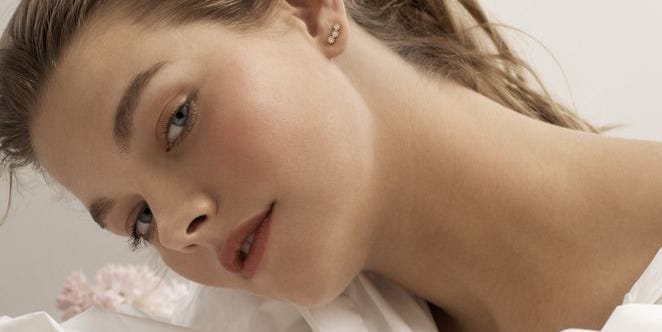 Whatever your everyday beauty look may be, there's a high chance you'll want something slightly different from your bridal make-up – something elevated and extra-special. Most of us simply want to look like the best version of ourselves on our big day, emphasising our favourite features and creating a seamless base that'll look radiant both in real life and through the flashing camera lens.
"Choosing your hair and make-up looks for your wedding day is just as personal as choosing your wedding dress – it should be completely unique to you," says make-up artist Kelly Dawn. "It's important that you look and feel like the most beautiful and confident version of yourself."
A few years ago, doing your own bridal make-up was a truly niche move, but as we continue to think outside the traditional wedding guidelines, more and more of us are choosing to go it alone. If you're considering being your own MUA – or simply want to find the perfect products to hand over to your artist – we're here to help.
Ahead of this wedding season, we asked the industry's most revered make-up artists to share their top tricks of the trade. Here we reveal the often-overlooked make-up details that could mean the difference between a great beauty look and a truly breathtaking one.
The expert guide to bridal make-up
Base
Foundation for brides should fulfil that 'your skin but better' requirement. Think: hydrating, yet oil-balancing, with a radiant finish that blurs pores and imperfections.
There's now an intimidating array of foundations and base products on the shelves, and narrowing down the ones that'll work best for you can take a lot of time (and money). Dawn recommends whittling products down according to your skin type. "For example, if you have oily skin, you will likely be better suited to an oil-free foundation with a demi-matte finish. If you are more on the dry side, you will need something more hydrating that leaves a dewy glow. A foundation that looks flawless on one person's skin could appear dry and cakey on someone else, or end up slipping off throughout the day."
As make-up artist Hannah Martin, adds, it's also important to use a foundation that doesn't contain SPF, as these don't play so well with flash photography. I can think of a million foundations with SPF that you can't be photographed in because they cause that ghostly bounce-back."
Once you've found a formula you like, it's crucial to consider the colour carefully. "Ideally, you would want your foundation to match as close as possible to your natural skin tone and to seamlessly match from face to body," explains Dawn. "Not just face to neck, but all areas of skin that will be showing, so that you have a flawless glow from head to toe."
Next up, coverage. Don't feel you have to slick your foundation evenly over your entire face: in fact, being more strategic can help you keep the high and low points of your face in focus, creating a more flattering result. "I like to customise coverage based on the bride's skin rather than applying one product all over," says Dawn. "You can apply lighter coverage in areas you want your natural skin to shine through and build up a fuller coverage over any blemishes or areas you want to conceal. This gives a more natural finish that still looks picture-perfect."
Dawn has honed a reliable foundation application technique for her brides, which ensures ample coverage without any streaky lines. "I like to work with foundation brushes and then use a sponge to press the product into the skin and remove any excess," she says.
Powders and setting sprays
A good foundation will likely see you from day to night with little transfer or fading, but for true longevity consider adding a light touch of setting powder on top.
A finely milled powder will lock in your foundation and generally only needs to be used through the T-zone to control shine.
If oil isn't a concern for you, consider a setting spray instead – just be sure to opt for one that has both an ultra-fine mist and a glitter-free finish.
Highlighter
On the face, Martin recommends a light powder-based highlighter, which will be more long-wearing than a cream formula. "Something dewy would look great if no one touched you, but when you're a bride everyone wants a cuddle or kiss. Some people do air kisses, but uncle Rob doesn't know to do that! Before you know it, a cream product will have transferred to his cheek and your make-up won't look as fresh as it could."
SPF
The truth is, Martin avoids using SPF on brides when possible, given how it can change your complexion in pictures. After all, it's only one day.
"If it's a destination wedding then that's different: then I'd use something like the Kate Somerville UncompliKated SPF 50 Soft Focus Setting Spray (as a last step). With this one, you won't get a ghost-white look in pictures."
Eyes
Before make-up, Martin treats her brides to a hydrating under-eye mask to plump the skin and bring down any puffiness. "This is a nice stress-free moment for a bride to sit and relax," she says. It also means any concealer will adhere better and fine lines will be minimised.
For the most photogenic finish with your eye make-up, ensure that the inner corner of the eye is brighter – "but that doesn't have to mean highlighter," Martin explains, "that can be a little jarring." Instead, be careful that whatever darker eye make-up you wear doesn't creep into the inner corner of the eye. "You can then brighten it with a pale pinky-gold eye shadow or highlighter which is better than a yellow gold which can look too glaring."
Another trick to try is tightlining your eyes. This 'invisible eyeliner' technique creates the look of a denser lash line and bigger, brighter eyes. "This doesn't mean applying liner to the upper waterline," Martin explains – "if you do that it will transfer no matter which formula you use." It's about applying it in-between the lashes, "just at the root, all the way along". It's a small detail that makes a transformative difference.
Lips
Before you delve into the lipstick drawer, prep your lips with a lip scrub: this step is more important than you may think.
"Nerves, excitement, alcohol – these all play havoc with how your lips feel and how hydrated they are. In turn this affects how they look," says Martin.
Gently scrub your lips with a sugar-based scrub in advance of your make-up session, applying a good balm right after. An hour later, your lipstick will slide on beautifully and last longer too. "If your lips are at all dry or cracked, lipstick won't adhere as well," says Martin.
When it comes to lipstick, "always apply lip pencil first, filling in the entire lip to help lock in your colour."

Chest and shoulders

Don't forget about the rest of your body: a few choice body highlights will complete your make-up look and complement your dress.
Martin likes to use a stick highlighter on her bride's back, when the dress permits. "The back of the shoulders makes for such a nice picture, so they should never be neglected! For a bit of a gleam, apply it straight from the stick, blend and go." For brides, Martin applies Ciaté Dewy Stix to the collarbones, which looks looks "delicate and beautiful".
Neck and ears
This is another area that's commonly neglected – but a dusting of makeup will really ensure a seamless result. "If your hair is in any way off your face, take your excess bronzer over the ear and around the back of the hairline, and the back of the neck if necessary," says Martin.
This content is created and maintained by a third party, and imported onto this page to help users provide their email addresses. You may be able to find more information about this and similar content at piano.io