A Complete Guide, Per Style Editors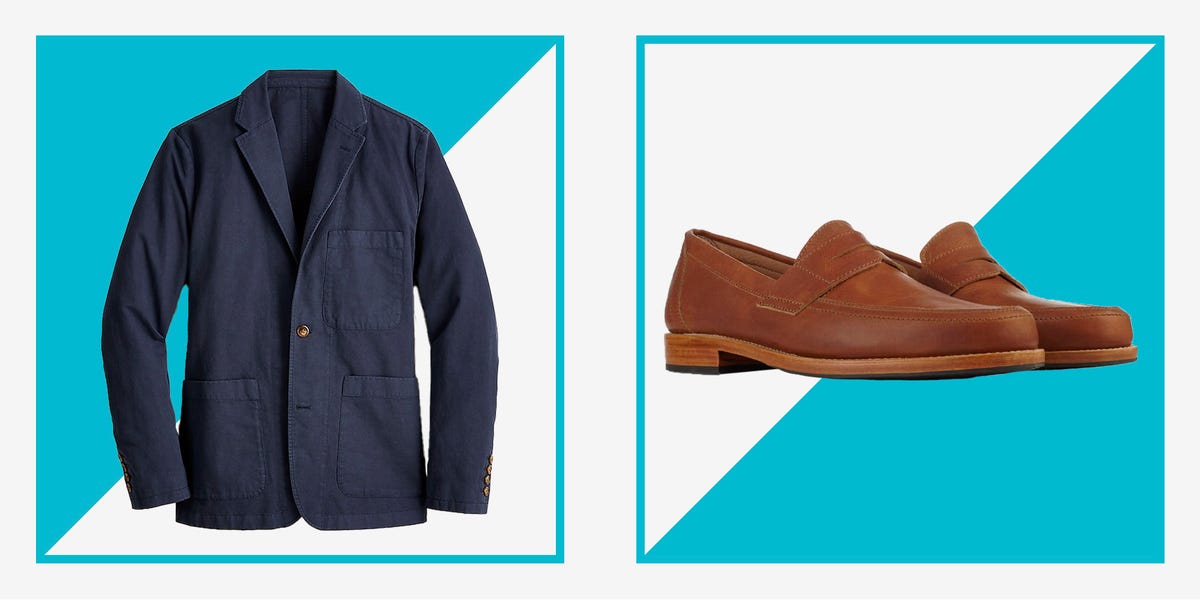 LONG GONE are the days when every wedding invitation meant a trip to the dry cleaners to press your best suit. As younger generations are getting married, dress codes are relaxing in favor of more comfortable (but still respectable) attire. More than likely, that wedding invitation you have stuck on your fridge lists some phrasing of "casual wedding attire." Loosening dress codes are both a blessing and a curse. On one hand, you can show up in less constricting formalwear. On the other hand, this uncharted territory leaves plenty of room for vague style interpretations.
You may ask yourself, "what exactly is (fill in casual dress code term here), anyway?" There is no need to panic! Regardless of what the wedding invitation says, if you aren't required to wear black tie or a black suit, this guide has you covered. The trick is that you should dress for the season and follow a few simple rules that will keep you in the not-too-formal, not-too-casual sweet spot. For starters, always wear a jacket, even if it is not a suit. Stick to leather footwear, be it loafers, dress shoes, or dress boots. Last but certainly not least, always accessorize appropriately. A pocket square can be the difference between underdressed and right on the money.
While we have logged plenty of weddings in the past, we still thought it was wise to call in an expert to help navigate the tricky "casual wedding attire for men" territory. We spoke with Donté Chappell of Chappell Styling and Tailoring, a personal stylist and tailor with over a dozen years of experience dressing some of the most stylish men in New York City. He has dressed more dudes for weddings than we could possibly keep count of, so he has casual wedding attire for men down to a science.
Spring Weddings
Spring is called "Wedding Season" for a reason: they come at you hard and fast. You may have to commit to a handful in a few months time, possibly crossing paths with a few other guests multiple times. Which is why you can mix and match a few simple pieces to roll out a fresh look at each shindig. Donté tells every client that "fabric, fit, and color are everything." A solid pair of chinos that fit like a suit pant, with the hem spot on, will look just as good as a suit. Investing in a navy blazer will have every battle half won for you. Create contrast with white or stone colored chinos and wear a dress shirt with some blue in it to tie everything together. Don't be afraid to splash color in with a tie and pocket square.
Summer Weddings
It's going to be hot out there, and most summer weddings will be out there. So choosing the correct fabrics to let your body breathe is paramount. There are plenty of new innovative fabrics available these days, but Chappell swears by linen suits. Not only does it breathe better than anything else, linen provides the perfect semi-formal look thanks to a deep history in suiting. Seersucker is also a good choice and pairing the two together is expert level. Don't be afraid to leave your collar open. There are occasions where the right pocket square will substitute for a tie, and this is one of them. You may be wondering if drawstrings are alright to wear these days? Chappell gives them his stamp of approval as long as the pant legs have a tailored fit. For the finishing details, wayfarer sunglasses and huarache sandals complete any summer wedding look.
Linen Pants | Summer Blazers | Seersucker Suits | Summer Pants
Fall Weddings
The beauty of casual wedding attire for men, according to Chappell, is that you can play around with textures. He explained that finding the right textures and colors for you comes down matching your eyes, hair color, and skin tone. Fall has so many rich textures and deep colors to play with. When the air gets crisp, you can break out the tweed in patterns like herringbone, houndstooth, and plaid. You can also add more layering to your looks with items like cardigans and vests. A sweater polo is a relaxed alternative to a collared shirt. If it is done tactfully, you can even get away with jeans at a fall wedding. As Donté proclaimed, "a great pair of shoes will make jeans look formal." Try a pair of captoe oxfords and add a silk scarf for good measure.
Winter Weddings
Holiday season tends to overlap with winter weddings, which means you should think of dressing for casual winter weddings the same way that you think of dressing for holiday parties. Festive plaids, along with reds and blues are always a good choice. You can throw cashmere and velvet in the mix that time of the year. A good crew neck or turtleneck sweater in black, charcoal, or navy makes for a solid base to build your outfit overtop. Even if the wedding is not around New Year's Eve, you can go for a New Year's Eve look at a casual winter wedding. A velvet dinner jacket will be the star of the party, especially if you wear velvet slippers along with it. Tuck a plain white pocket square into the breast pocket for a monotone look.
Read More of Our Expert-Approved Wedding Style Guides
Wedding Attire for Men | Beach Wedding Attire for Men | Cocktail Attire for Men | Wedding Suits

Contributing Commerce Style Writer
Brad is a contributing style commerce editor. After a decade working for menswear brands including J.Crew and Ralph Lauren, Brad switched from selling fashion to writing about it. His words have appeared in Huckberry, Heddels, and The Manual.  

Deputy Editor, Commerce
Christian Gollayan oversees e-commerce content for Men's Health and Women's Health. Previously, he was the Associate Managing Editor at TheManual.com. Christian's work has also been featured in Food & Wine, InStyle, the New York Post, and Tatler Asia.