3 Traditional Table Settings at a Catholic Wedding Reception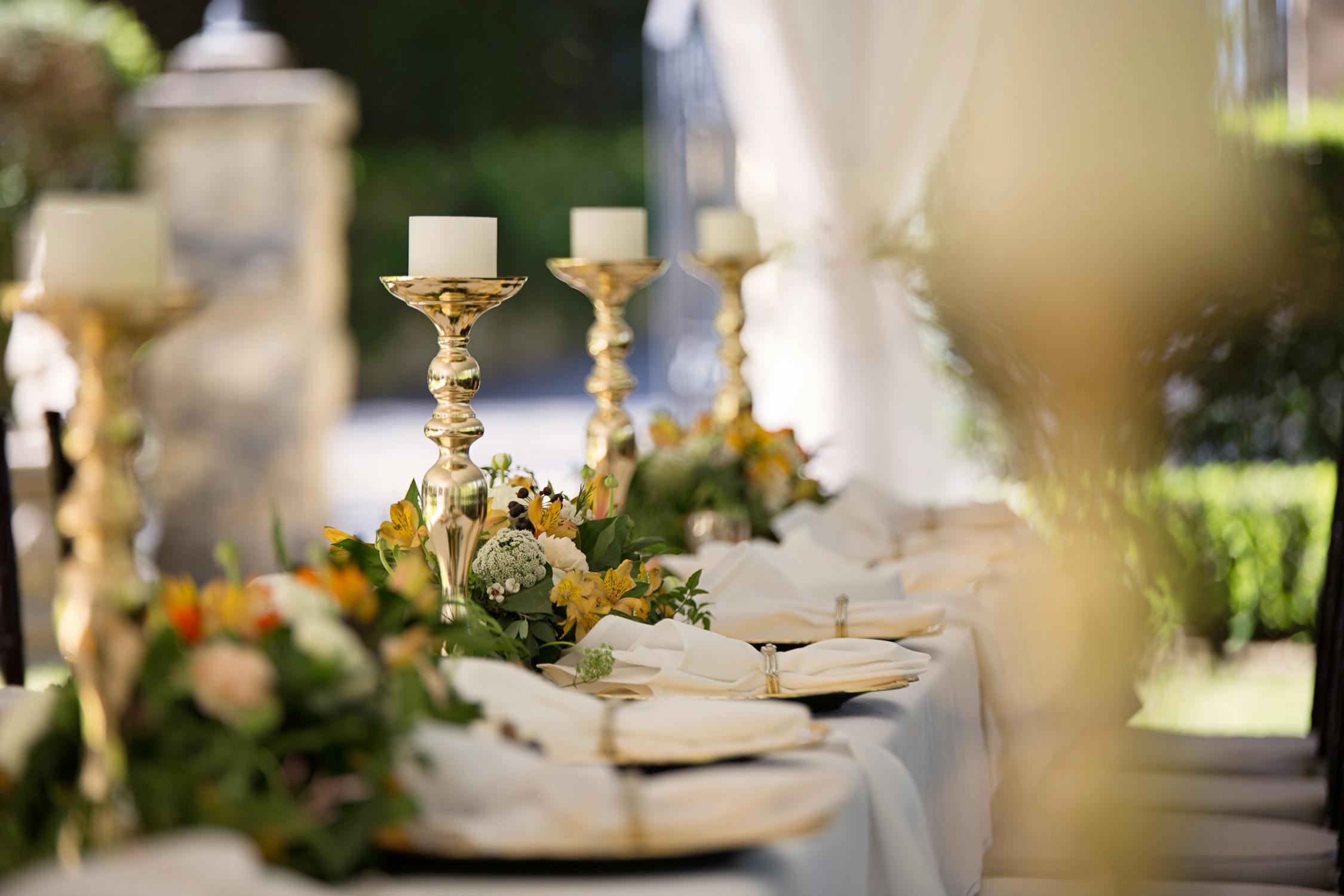 Whether you are a wedding planner or someone close to the engaged couple, you may be tasked with hosting a traditional Catholic wedding reception. Actually, they are much like any other post-ceremony celebration but with a few minor differences as you shall see. There is a whole thematic approach, and this is something that may not be referenced in most wedding guides out there unless they are Catholic, that is!
1. Catholic Wedding Guide – Favors
One thing that you may not find referenced in how-to wedding guides would be traditional Catholic favors. A Catholic Wedding Guide, on the other hand, would pay special attention to this aspect of table settings. Bear in mind that to the Catholic Church, Holy Matrimony is one of the seven sacraments and as such, the religious aspect should be prominent in both the actual wedding itself as well as at the post-ceremony reception.
Most traditional Catholic wedding guides talk about the inclusion of a wedding favor that has religious significance. It could be a holy card with a prayer or a little sachet with two rings inextricably bound. As long as it has biblical or liturgical relevance, this is the one wedding favor that cannot be omitted.
2. Seating Matters!
This is something that will absolutely require RSVPs when sending invitations. However, at a traditional Catholic wedding, seating makes a difference in a number of ways. If you stop to think about this for just a moment you will understand why, and this isn't something most wedding guides will speak of. Sometimes, as with any large get-together, you will have guests with opposing viewpoints on anything and everything from politics to religion to child-rearing.
However, you don't want a huge theological debate going on at this most special of days, so if you know who these polar opposites are, perhaps you could seat them in closer proximity to 'moderates.' You would still place traditional Catholic favors at all place settings, but at least you could minimize controversy by keeping 'extremists' as far apart as their opposing viewpoints.
3. Table Décor
When it comes time to order centerpieces for the guest tables, one thing you should know is that flowers have meaning so choose them carefully. It isn't always about the symbolism but other factors that should prevent their inclusion in table décor. The one flower to avoid is Calla Lilies because they are said to have "poisonous beauty", and that's not something you want symbolized at a Catholic wedding reception!
Nonetheless, flowers that shouldn't be included are those that are difficult to keep hydrated such as hydrangeas, which wilt quite quickly. Then there are those that are among the worst allergens such as chrysanthemums and even daffodils. You wouldn't want your guests itching or sneezing their way through the meal!
One Last Thought
In the end, you don't want to be too focused on tradition. Yes, religious wedding favors and seating are important, but the whole point of the reception is to celebrate the union of man and woman into one body in Christ. It's meant to be a joyful time of celebration so be aware of traditional table settings, but remember, this isn't the United States Army! No one will be inspecting the tables and you certainly won't be punished with 100 pushups! Do your best to follow tradition but focus on fun.