20 Wedding Lingerie Sets and Bridal Underwear for the Honeymoon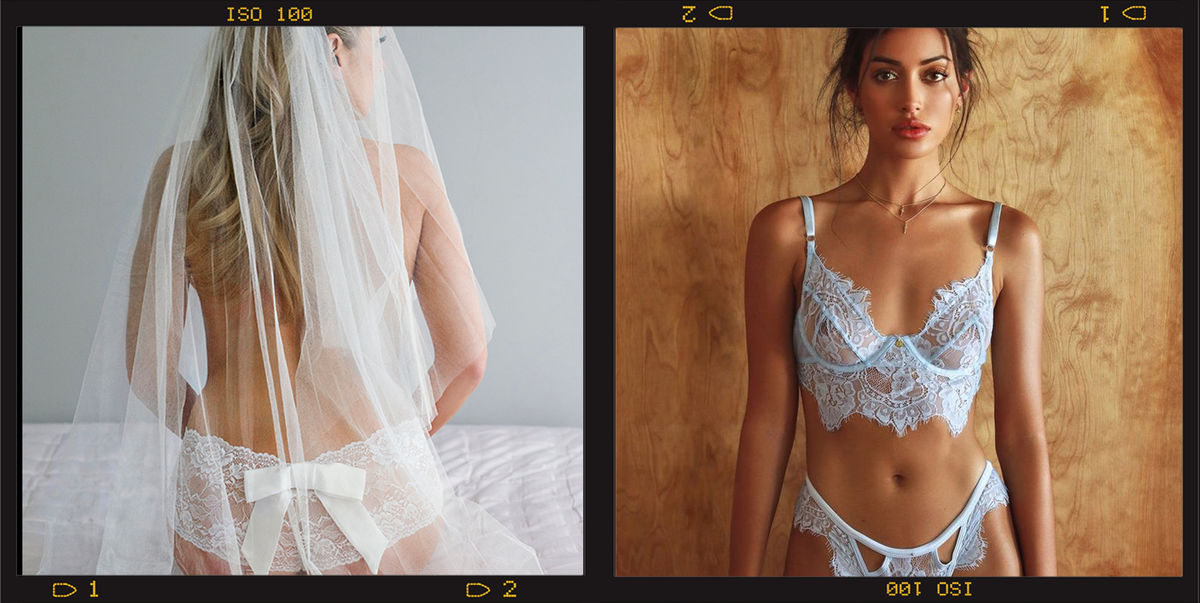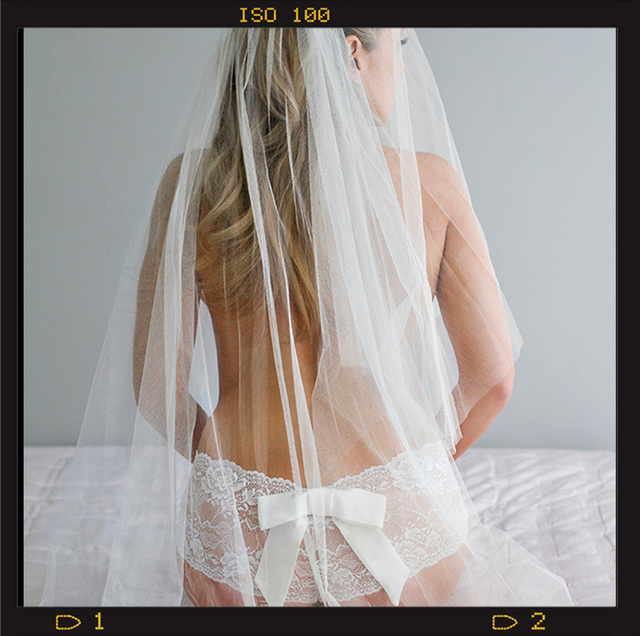 Courtesy
Once the wedding date is officially set, the honeymoon is booked, and the bachelorette party is planned, there's only one thing left to cross off the list for a bride-to-be: find the perfect wedding lingerie set. Okay, fine! You've still got a lot of things left to finalize, but it's easy to overlook your wedding lingerie—so this is your reminder not to forget. When else will you be able to wear wedding lingerie? Exactly. So don't skip out on this part of your honeymoon wardrobe.
If you don't typically wear lingerie, you might not know where to start and need a little guidance. It's understandable! Or maybe you're trying to pick out underwear for someone else—if you're shopping for a friend's bridal shower or party and need a lingerie gift. That's even more challenging. To help ya out (no matter your circumstance) we made this lovely little lingerie guide to assist in making your selection. We've got casual, comfy options for the low-key person, fun, unique sets for the one who's always doing the most, classic pieces for the traditional bride, and more. From slinky nightgowns and silky robes to strappy bralettes and lacy panties, here are 20 wedding lingerie sets to suit any bride's style.
Advertisement – Continue Reading Below
1
These Briefs With a Bow
Champs Elysee Lace Brief
Hold onto that veil after you say "I do," because these handmade French lace bottoms featuring a silk bow in the back would pair perfectly with it.
2
This Babydoll Set
Babydoll and G-String Set
This babydoll gown with lacy details is soft and roomy enough to sleep in but a major step up from the usual T-shirt you wear to bed. It comes with a matching G-string, too, to complete the set.
3
This Baby Blue Set
Bra Baby Blue
You know what I'm getting at with this light blue lingerie set, right? White might seem like the most traditional bridal color, but "something blue" is one of the oldest wedding traditions, too,
4
This Pretty Pajama Set
Allure Sleep Cami Boxer PJ Set
This bralette and matching boxer shorts look like lingerie but feel like your coziest set of pajamas. Comfy PJs disguised as lingerie? Yes, please.
5
This Bodysuit
Sexy Eyelash Lace Bodysuit
This bodysuit is way more comfortable and functional than it looks (always a plus). The wireless eyelash cups give the structured look of underwire and boning in the bodice, but this one-piece is actually made from stretchy fabric all over.
6
This Sweet Set
Ivory Lace & Mesh Unlined Demi Bra
If you do like a little underwire for support, try a demi-cup bra like this lacy, non-padded one and matching shorts to go with it.
7
This Blush Bodysuit
Gallon Lace Bodysuit in Monique Lhuillier Blush
Monique Lhuillier x Hanky Panky
The blushing bride needs this blush-colored one-piece that, honestly, kinda resembles a wedding dress, no? The long lace sleeves are a nice touch, too.
8
This Wrap Bra
Caged Lace Unlined Bra with Tie
This unlined lace bra that you can mix and match has a tie around the waist that gives it that little something extra for the bride who appreciates all the details.
9
This Dainty Set
Underwire Bra
This dainty little set comes in a handful of colorways, perfect for the bride who wants to wear the lingerie long after the wedding and honeymoon.
10
This Intricate Set
Josie Intimates Set – Pink
This set comes with it all: a sheer, lacy bra and thong set with an adjustable garter belt, and adjustable leg straps. This is the lingerie for the bride who loves all the extra bells and whistles (and straps).
11
This Long-Sleeve Robe
Luna Sheer Plus Size Robe
A robe this pretty should be the one the bride wears to get ready for The Big Day and after the reception ends (wink, wink) because it deserves to be worn way more than once.
12
This Blue Chemise
Women's Lace Kiss Chemise, Night
Another bridal blue option, this sweet, sheer chemise checks all the boxes because it's both sexy and comfy to sleep in.
13
This Tiny Tiered Two-Piece Set
Tiered Soft Bra
Make sure to grab the matching thong to this triangle bra for the bride who loves something simple with minimal coverage.
14
This Metallic Bra
Pleated Lamé Unlined Bra
Nothing about this metallic bra (and matching skirt!) is basic or explicitly bridal, and that's exactly what the nontraditional bride-to-be would want for wedding lingerie.
15
This Halter Bralette
Simone Halter Bralette
This adjustable halter-style bralette offers support that most bralettes could never. With this lingerie set, you get a little lift and a lot of comfortable lace.
16
This Neutral Bodysuit
Mia Dot Bodysuit
This blush-colored wire-free bodysuit looks and feels like it's barely there but offers longline support if you like a little bit of structure.
17
This Pretty Peachy Set
Suspender
18
This Strappy Set
Brianna Underwire Strappy Plunge Bra
What pairs perfectly with this lacy low-cut bra? A pair of high-waist panties to complete the sexy set.
19
This Silky Robe
Tumaini Silk Robe Pearl White
Never underestimate how sexy a simple robe can be! This is one gift (or gift for yourself) that will get lots of use post-honeymoon.
20
This Halter Bodysuit
Natalia Bodysuit Alabaster
This halter bodysuit with a thong bottom and totally open back offers all the drama you'd want in wedding lingerie. And since it's all one piece, you don't have to worry about getting all the other pieces, too.
This content is created and maintained by a third party, and imported onto this page to help users provide their email addresses. You may be able to find more information about this and similar content at piano.io
Advertisement – Continue Reading Below