1. Hold your festivities at the site where your husband-to-be proposed. One couple held their wedding at the majestic Mount Washington Hotel in Bretton Woods, New Hampshire, where the groom had proposed a year earlier. Since he'd popped the question in a horse-drawn carriage, they treated guests to their own romantic rides.
2. Let your site inspire your wedding look. Engaged at the Eiffel Tower? Incorporate a Parisian theme into everything from your save-the-date cards to the napkins at your cocktail hour. (And consider a gorgeous French-style croquembouche cake, a wonderful cream-puff pastry covered with caramel.)
3. Some locales are inherently romantic: Choose a vineyard, a botanical garden, a lush backyard with beautiful plantings or an old mansion with chandeliers, ornate mantelpieces and a landscaped garden for guests to roam in. With naturally gorgeous backdrops like these, you just can't go wrong!
4. Consider the hues you use. For a fairy-tale romance effect, try a color scheme of pinks, whites and silvers. Or use shades of red, from the palest pink to luscious watermelon to a deep rose. If you prefer a more sensual, romantic ambience, choose a palette of strong, passionate reds.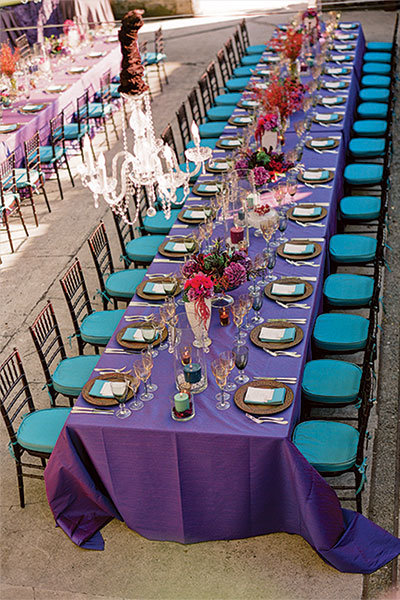 5. Lighting sets the stage for romance. Have a lighting specialist create a special glow for your first dance.You might project your married monogram or a simple, swirling design onto the dance floor. It never fails to get guests out there to kick up their heels.
6. One idea for a very romantic looking table: a white linen tablecloth covered with a pink overlay. Tuck a tiny, perfect rosebud into each guest's pale pink napkin. A centerpiece might include varieties of pink blooms, such as roses, orchids and tulips.
7. Masses of candles will warm everyone's heart. Float them in glass bowls or cluster some in various heights on tables. At an outdoor wedding, you can achieve a magical effect by suspending dozens of tiny electric candles in small glass globes from tree branches. And don't forget to consider nestling pretty Japanese lanterns among the branches — utterly enchanting!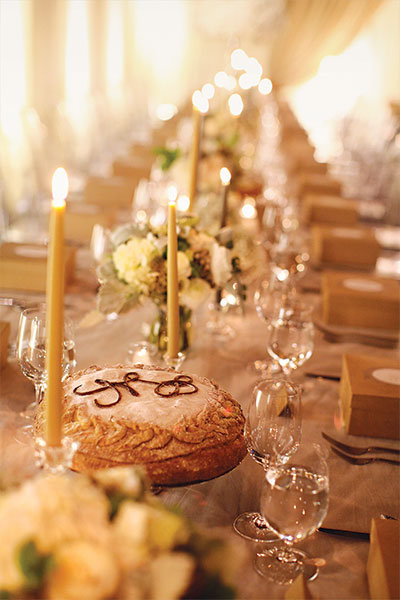 8. Sheer fabrics make a romantic statement. Use lengths of tulle or organza as table runners. Adorn windows, mantels and doorways with gorgeous swags of the same fabrics.
9. Have table cards printed with the "firsts" of your romance. The two of you can write these together. Use them instead of standard table numbers — for example, one table would be the "First Kiss" table and another would be the "First Date" table and so on.
10. A somewhat different version of this idea: Have romantic facts about the two of you printed on cards, and place one on each reception table. Put the cards in holders so guests can pass them around and enjoy them. For inspiration, think about the most romantic thing you've done for each other, how the groom proposed or your favorite thing to do as a couple. You could also include a line from a movie, song or poem that is special to you.
11. Put friends' and families' wedding photos on display. This is a wonderfully inclusive way to show how much you appreciate the encouragement and support from everyone who loves you.
12. Make meaningful music. Walk down the aisle to a song that is particularly special to the two of you. One couple hired a guitarist they'd met on a vacation in Mexico to perform "Here Comes the Sun" at their wedding ceremony.
13. Have him meet you halfway. The bride who is walking down the aisle solo can have her groom meet and escort her to the altar. It will be an unforgettable moment for everyone!
14. Have your groom greet you at the altar with an offering. A truly romantic gesture is for the groom to present his bride with a single flower when she reaches the altar — it could be a perfect yellow rose or her favorite garden bloom.
15. Another way for the groom to show his romantic side: One groom conspired with the florist to add a blanket of rose petals down the aisle that ended in two circles of petals at the altar where he and his bride would stand.